Attractions in Ballina & the Region
Ballina .... The Gateway to the Northern Rivers Region.
Let us plan your adventure.
Whether booking tickets to one of the many fantastic attractions in our region, to set-down and pick-up arrangements,
to supplying personalised hampers for your day exploring, we specialise in making everyday perfect...
Stay at Ballina Manor while you discover the magic of Ballina. With 32klms of perfect,
white sandy beaches, great surfing, fantastic fishing and glorious rural countryside,
unique experiences abound in and around this jewel by the sea.
Northern Rivers
Ballina lays in the heart of the Northern Rivers of New South Wales a place of astonishing physical beauty
and extraordinary cultural diversity. Just below the Queensland border the Northern Rivers region of New South Wales
encompasses Tweed Heads in the north to the inland river city of Grafton to the south.
Fifteen of Australia's precious World Heritage Listed areas can be found here, as well as dozens of National parks,
nature reserves and rainforest remnants.
The Northern Rivers is blessed with a remarkably hospitable climate, warm rains nourish the countryside
putting the green into the 'rolling hills' and the crisp inland mornings of winter bring just enough chill to define the seasons.
The mild subtropical climate yields a rich harvest of amazing farm produce in the spectacular volcanic terrain.
Experience the breathtaking majesty of a rainforest or marvel at the teeming wildlife of our costal heaths and dunes,
take a 4WD trek into a mountain wilderness or a leisurely stroll through a towering palm forest.
Scattered throughout the Northern Rivers are dozens of delightful towns, villages, and rural hamlets.
There are classic country pubs and cafes and an abundance of fetes, fairs and festivals.
Spend some tine with us and experience the astonishing physical beauty and
extraordinary cultural diversity of the Northern Rivers region.
Tassiriki Ranch - The Ultimate Beach Horse Riding Experience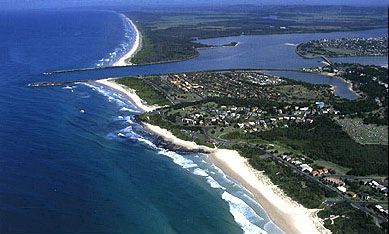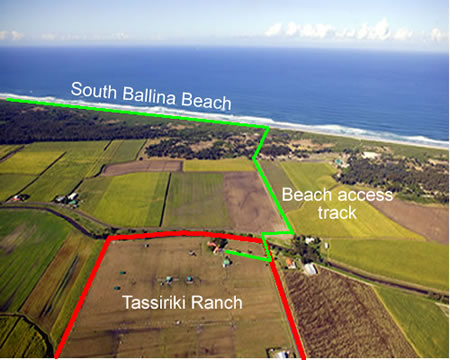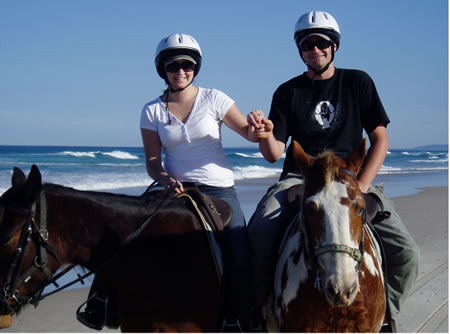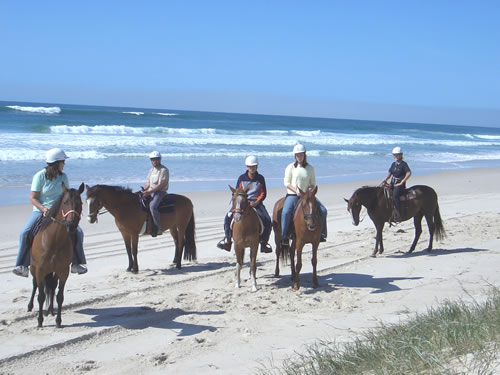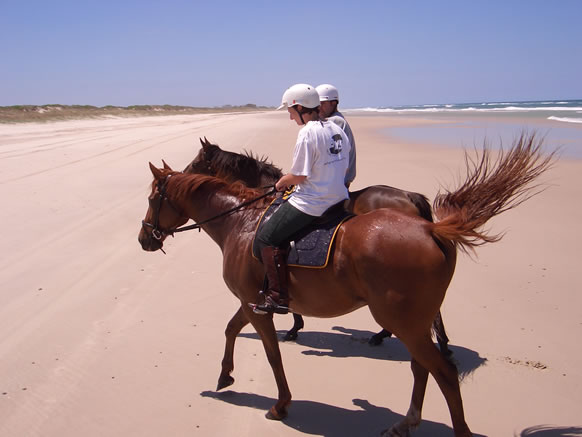 Have you always dreamt of a romantic horse ride on a secluded pristine beach,
escaping your busy lifestyles to a relaxing holiday with family or friends and horse riding on seemingly endless beaches...
then Tassiriki Ranch is the place for you!
Where?
249 Moylans Lane, Empire Vale (South Ballina) NSW
Phone: 02 6683 4602
Richmond Oysters
Ballina Information Centre
Looking for something to do this weekend ?
Take a drive to Beautiful Ballina, New South Wales and check out their Visitor Information Centre.
Located in River Street and opposite the water slide, they have lots of local products
showcasing our beautiful region including a selection of canvases, calendars and cards.
Great gift ideas for that special person, employee or Corporate guest and the fantastic staff
can even help you create your own hampers.
The Ballina Visitor Information Centre is open from 9:00am - 5:00pm, 7 days...
Where?
Cnr of River Street & Las Balsas Plaza, Ballina, NSW, 2478
Phone: 1800 777 666

AIR T&G - The best choice in helicopter service providers for the far North coast of New South Wales.
Heli Tours:
The Byron Bay and Ballina region provide our passengers with unprecedented scenery.
Marine life such as dolphins, rays and turtles are commonly sighted, while during the winter months, the humpback whales
can be seen as they migrate north.
Hey, if none of these take your fancy, we can arrange to tailor make a flight that does! Just let us know where and what you'd like to see.
Gift vouchers available - the perfect gift idea!


Where?
210 Southern Cross Drive, Ballina Byron Gateway Airport
Ballina NSW Australia
P: (02) 66814915
F: (02) 66814916

photos by Colin Cooksey
Ballina Naval & Maritime Museum

This Museum houses the famous Las Balsas Raft which made an expedition from South America to Ballina in 1973. Admission by donation.

Behind the Ballina Visitor Information Centre, displaying the maritime history of the North Coast ...Plus
The Royal Australian Navy and Navies of other countries, and The Merchant Navy. Home of the La Balsa Raft.
Where?
Ballina Naval & Maritime Museum Inc.
Regatta Avenue , Ballina. P.O. Box 506 Ballina 2479.
Open 7 Days 9 am to 4 pm. Admission by donation.
Phone: (02) 6681 1002
Facsimile: (02) 6681 1002

Web site: www.ballinamaritimemuseum.org.au


David Mackay Harrison Galleries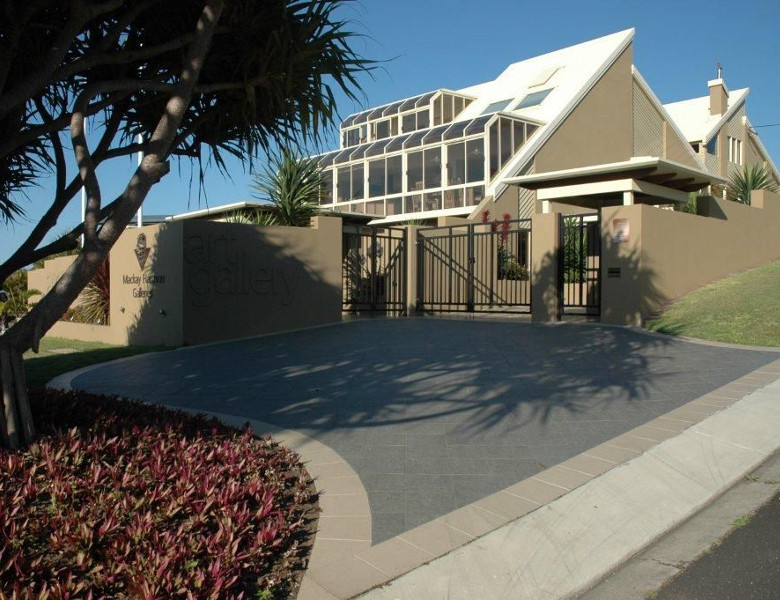 If you visit Ballina take the time to visit Mackay Harrison Galleries. This is the only venue in Australia which houses the entire collection of David's fabulous Bronzes along with his paintings. The Gallery also displays other fine artworks from full time professional artists and craftsmen from all over Australia, see our Gallery website at www.dmhgallery.com.au When you visit the Ballina gallery you can enjoy a refreshing cup of tea or coffee in our recently refurbished inner courtyard or garden courtyard adjoining the gallery.
You would be hard pressed to find a gallery with such a collection of beautiful artworks anywhere in Australia. Gallery hours are Wednesday-Saturday 11am-5pm or anytime by appointment phone 0266863053 or 0412664284 or to speak with David personally.

Where?
79 Bayview Drive
East Ballina NSW 2478
Phone (02) 66 863 053 - Mobile 0412 664 284
Web site: www.dmhart.com.au
Ballina Golf Course
Recognised as the "garden course" of the Northern Rivers, features of Ballina are the easy walking, lush fairways,
328 greens and shady trees. The visually extensive, pleasing gardens complement your enjoyment of golf on our course.
Click here for directions to Ballina Golf and Sports Club.


Length: Members 6052 m. Ladies 5235 m
Holes: 18
Par: Members 72 ladies 72
Rating: ACR 71 AWCR 72
Length of longest hole: 488 metres
Greens grass: 328
Hazards: trees, breeze and bunkers
Terrain: flat

Golf Lessons
Well stocked Proffessional Shop
Hire clubs, Bags and Buggies
Mens and Ladies Clothing
Latest equipment to cater for your needs
Motorized Carts
Logo'd Merchandise
Enquiries welcome with expert advice and a friendly atmosphere compliment the Pro Shop
which is fully stocked with top quality products from the leading manufacturers in golf.
ie: Titleist, Cobra, Callaway, Taylor Made, Ping and many more.

Where?
Ballina Golf Course
Jameson Avenue, East Ballina NSW 2478
Phone: (02) 6686 0144
Web site: www.ballinagolfclub.com.au


Thursday Plantation

Home of the therapeutic tea tree. Free guided tours and entry into the educational facility.
The kids will love the tea tree maze. Open 7 days.

Where?
Thursday Plantation
Pacific Highway, Ballina, NSW
Phone: 1300 654 336

Email: webmaster@thursdayplantation.com

Web site: www.thursdayplantation.com


photos by Colin Cooksey
Markets: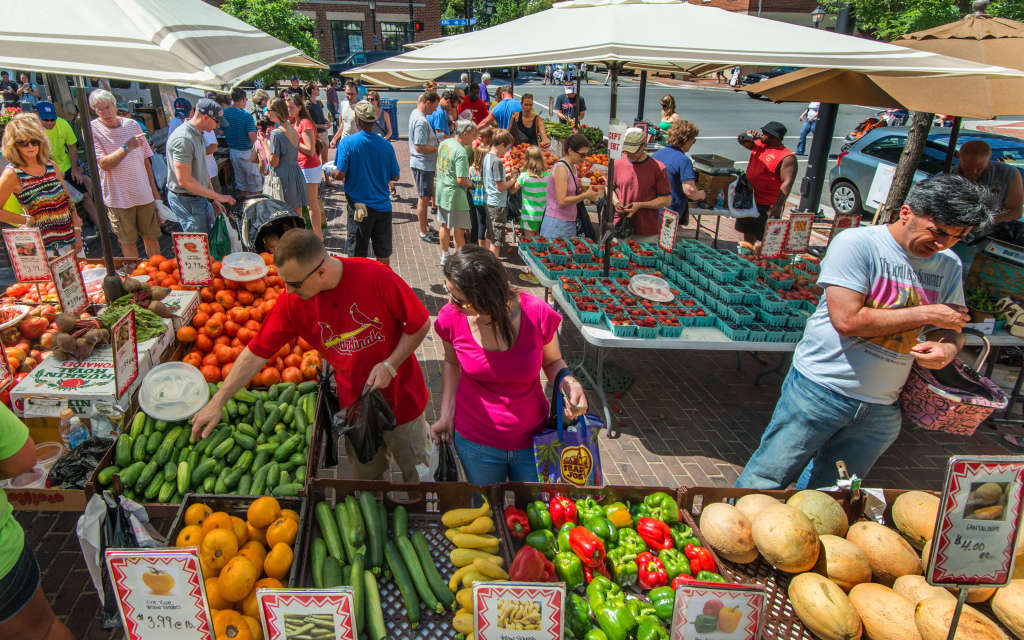 The North Coast Community Markets
These markets are amongst the most colourful in Australia providing an exciting outdoor shopping
experience with authentic local atmosphere. Local stall holders who make, bake it, grow it,
sew it or recycle it are given priority to display their wares, so you can be sure to find something
special with distinctive local character and charm.

Where?

Every Thursday
Ballina Twilight Markets Fawcett Park on the riverbank during daylight saving months from 4pm to 8pm.
1 st Saturday
Brunswick heads Memorial Park, Fawcett Street
1 st Sunday
Byron Bay Butler Street Reserve
Lismore Car Boot Lismore Shopping Square
2 nd Sunday
Lennox Head Lake Ainsworth , Pacific Parade
The Channon Coronation Park
3 rd Sunday
Ballina Outdoor entertainment centre Canal road
Lismore Car Boot Lismore Shopping Square
The Aquarius fair Nimbin Community Centre
4 th Saturday
Evans Head Evans Head recreation reserve
4 th Sunday
Bangalow Bangalow Showground
5 th Sunday
Lennox Head Lake Ainsworth, Pacific Parade
For more information on markets in the region please visit www.tropicalnsw.com.au/aaa_site/info/markets/markets.htm
For more information on local events please visit www.discoverballina.com and click on Events or Attractions.

photos by Colin Cooksey
Historical Attractions in & around Ballina:
Old Post Office

- Now the court house and police station, the old post office was first occupied in 1889.



Pioneer Memorial Park

- Due to a number of shipping disasters many sea captains and crew are buried here and are grim reminders of our historic past.



Fenwick House

- Located on Shaws Bay , a gracious 2 storey, Scottish Manor House, built in 1884 by Captain Thomas Fenwick.



Coastguard Tower

- Located adjacent to Lighthouse Beach, the tower is manned by the Ballina Flotilla of the Australian Volunteer Coast Guard Assoc.



Richmond River Lighthouse

- Built in 1879 this lighthouse is one of the oldest in the state, standing 35 metres above the high tide mark and with a light range of 20km.



Rotary Lookout

- View the spectacular coastline and hinterland through the binocular facility.



Pat Moreton Lookout

- Spectacular views of 7 Mile Beach where you can witness surfers tackling the world famous right hand point break below.



The Bora Ring

- Located in Gibbon St, this ceremonial site for the Nyangabal people is one of the few well-preserved earth bora rings in NSW.



Lumley Park Historic Museum

- Three acres of untouched "Big Scrub" which was set aside in 1934 and named after Clarence Lumley who was killed in WW1.



Old NSW Creamery Butter Co.Factory

- Built in 1900, which then became a peanut factory in 1930.



Old Tintenbar Council Building

- Merging with the Ballina Shire Council in 1977 and now houses the Kolinda Gallery.



Paddy Bugden Memorial VC Memorial

- Paddy was posthumously awarded the Victoria Cross for his bravery in WW1.



St Bartholomew's Church

- Made from local Meerschaum Vale sandstone, its foundations were laid in August 1913.



Federal Hotel

- Built in 1900 and named "Federal" because of the passing of the Federation Bill at the time.



Elizabeth Ann Brown Park & RSL War Memorial

- A picturesque park with picnic facilities, RSL War Memorial and rock wall which proudly displays the plaques won in Tidy Town competitions.



Meerschaum Vale

- A drive through this quaint village is reminiscent of the days of old, set amongst fertile, green pastures.



Wardell Lift Span Bridge

- Historic Wardell, proclaimed a town in 1886, where you can cross the lift span bridge and travel along River Drive and towards South Ballina.



Empire Vale

- Drive past broad expanses of cane fields and witness the telltale signs of a bygone era by the old railway lines embedded in the road.



Ballina Ferry

- Crosses to Ballina at a small charge. Open 5.30am to midnight daily. Closed 9am - 12noon 2nd Tuesday of each month and noon Xmas Day until 5:30am Boxing Day.

photos by Colin Cooksey
Tours & Trails
http://pacificcoast.com.au/?s=heritage+trail+ballina
A natural wonderland of rainforest, waterfalls, breathtaking vistas,
World Heritage National Parks and world famous beaches are just waiting to be explored.
Visit the Ballina Visitor Information Centre for brochures, maps and details.
Free guided tours of Ballina Manor are a must when visiting Ballina.
Tours operate 7 Days a week / 10:00am to 5:00pm
(Including Public Holidays)
Address: 25 Norton Street, Ballina NSW 2478
Group Bookings and Refreshments Available.
Click on the "TOURS/HISTORY" tab to get an insight on the life and transformations of Ballina Manor.

photos by Colin Cooksey
Tour Norton Street Heritage Trail
In 1887 a travelling correspondent wrote, "on the north side of Ballina runs a broad straight road, at the corner of which is the little post office; and
near this is the printing office of the local newspaper, the Ballina Pilot. At the end of the thoroughfare are a massive timber wharf and crane opposite
Jarrett's Marine View Hotel whence a good panoramic view is obtained of the mouth of the river".
Visitors today can still picture this description of Norton Street, which was wide enough to allow for the later planting of Norfolk pine trees and view that panorama from Meldrum Park, which is half way along your walk. Norton Street with its past mix of residential and commercial properties and string of community minded residents presents glimpses of Ballina's early history. So cross the road from the Visitor Centre and start walking back in time.
Some of the other attractions and Regional events in the area include
� helicopter flights by AIR T&G
� hang gliding
� scuba diving
� tennis
� bowling
� boating
� golf
� deserted beaches
� rainforest walks
� national parks
� coastal treks
� 4WD adventure
� explore Byron Bays delis
� visit plantations including fruit, macadamias & coffee
� fantastic tropical fruit
� amazing seafood and
� prime North Coast beef